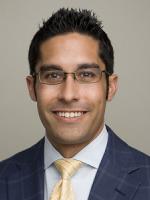 Senior Vice President, Regional Manager
Sunil Pandya is Senior Vice President and the Regional Vice President of Wells Fargo's Peninsula Regional Commercial Banking Office.  Based in Palo Alto and covering the Peninsula region from Millbrae to Sunnyvale, Sunil and his team provide local service and decision making to middle market companies including lending, cash management, capital markets, and other specialty banking services.
Sunil has 13+ years of banking experience having begun his career with Wells Fargo's Community Banking Group in San Francisco in 2002.  He joined the Commercial Banking Group in San Francisco in 2005 and held various positions of increased responsibilities ending his tenure as a Senior Relationship Manager and Team Lead.  In 2012, Sunil became the Loan Team Manager for the Peninsula Regional Commercial Banking and Technology Office providing credit support and portfolio administration to bankers and their customers, before being named the Regional Vice President in August 2015.
Sunil earned his Bachelors of Science Degree in Finance from the University of San Francisco and remains involved with his alma mater as a Board Member of the Silicon Valley USF Alumni chapter and alumni mentor.  Also in the community, Sunil currently serves as Wells Fargo's Liaison to the Silicon Valley Leadership Group Working Council.  Sunil and his wife reside in San Mateo.