WHAT WE OFFER
Business
One of the primary objectives of SAMCEDA is to support, champion, recognize and bring attention to the San Mateo County business community. All too often the contributions made by business to the economic health and well being of a community are overlooked and under appreciated. For San Mateo County a healthy business community directly translates to a healthy community and SAMCEDA strives to spread that message in a variety of ways.

Economy
In a new study commissioned by SAMCEDA and our Economic Vitality Research and Education Foundation we examine the changes in Labor Supply and Commute Patterns in San Mateo County. The understanding of labor demand coupled with existing data that illustrates the County's labor demand volatility will assist business, government, non-profits, and education institutions on the primary drivers of employment growth and decline. It will guide our efforts to exploit the regional strengths in attracting new establishments and their related employment. It will also assist us with our workforce development efforts and the training needs of our current and future employers.
Policy
Public policy is an area of primary involvement for SAMCEDA in its advocacy and leadership efforts. Focusing on national, state, regional and local legislation and policy initiatives, SAMCEDA's broad, pro-business based approach provides for informed perspective and action on critical policy issues.

For Over a Half Century...
SAMCEDA Has Worked in Partnership with…
Business, Elected Leaders, Educators, Labor, Non-Profits and many others
to promote San Mateo County as THE PLACE to live, work and prosper...
In the words of 2011 Peninsula Structures Attendees
"Heart of Bay Area Business/Innovation/Environment"

"Centralia - The Hub to get things done,
to connect to the world, the center…"

"A place of opportunity where diverse communities welcome diverse ideas"

"Modern, yet traditional. Brilliant, caring,
mind-blowing creativity, risk takers..."

"Collaborative - a history of cooperation"

"From the coast to the bay, the place to work and play..."

"San Mateo County - it's all about quality-people, business, place, education, environment..."

"Innovation lives here"

"Energy magnet for businesses and families"

"Climate for change"

FEATURED EVENTS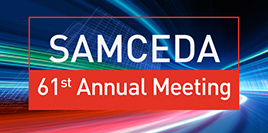 SAMCEDA 61st Annual Meeting

Monday, June 3, 2013
11:30am - 1:30pm
Sofitel San Francisco Bay
223 Twin Dolphin Drive
Redwood City, CA 94065
Members and Partners Corner

SAMCEDA Member Wells Fargo invested $315.8 million in 19,500 nonprofits in 2012, a 48% increase over the previous year. This increase follows four consecutive years of more than $200 million a year in total corporate giving. In addition to corporate giving, in 2012, 57,036 team members reported more than 1.5 million community involvement and volunteer hours, valued at $32.7 million. "These numbers represent Wells Fargo's ongoing commitment to providing vital financial resources to the local communities we serve" said John Adams, Wells Fargo Regional Group Head. "Although our economy goes through ups and downs, our longstanding commitment to the communities where our customers live, work, and do business has been a core part of our vision and values since day one."
In addition did you know that Wells Fargo paid $10 billion in corporate income tax for 2012? This makes Wells Fargo one of the largest if not the largest U.S. federal corporate income taxpayer in the country. Wells Fargo's tax payment represents approximately 5% of all the federal corporate income tax collected. In addition, the company's share of employment-related taxes, property taxes, and other taxes totaled more than $2 billion for 2012.

SFO Announces Record Passenger Traffic in 2012

The San Francisco International Airport (SFO) announced an all-time record for passenger traffic in 2012, with a total of 44.5 million passengers traveling through SFO. This surpasses the previous record of 41 million passenger set in 2011, and represents an 8.5% increase in traffic year-over-year.

Go-Biz Released the CA Business Investment Guide

The Governor's Office of Business and Economic Development (GO-Biz) released the "California Business Investment Guide" containing an overview of business advantages, taxes, and the permit process.

Health Law Guide for Business Launches Spanish Website

The health care law may appear large and complex, but it will provide more options for small businesses to better afford health insurance. Learn about your options, make informed decisions, and maximize your benefits.
Visit English Website | Visit Spanish Website
---