WHAT WE OFFER
Business
One of the primary objectives of SAMCEDA is to support, champion, recognize and bring attention to the San Mateo County business community. All too often the contributions made by business to the economic health and well being of a community are overlooked and under appreciated. For San Mateo County a healthy business community directly translates to a healthy community and SAMCEDA strives to spread that message in a variety of ways.

Economy
In a new study commissioned by SAMCEDA and our Economic Vitality Research and Education Foundation we examine the changes in Labor Supply and Commute Patterns in San Mateo County. The understanding of labor demand coupled with existing data that illustrates the County's labor demand volatility will assist business, government, non-profits, and education institutions on the primary drivers of employment growth and decline. It will guide our efforts to exploit the regional strengths in attracting new establishments and their related employment. It will also assist us with our workforce development efforts and the training needs of our current and future employers.
Policy
Public policy is an area of primary involvement for SAMCEDA in its advocacy and leadership efforts. Focusing on national, state, regional and local legislation and policy initiatives, SAMCEDA's broad, pro-business based approach provides for informed perspective and action on critical policy issues.

For Over a Half Century...
SAMCEDA Has Worked in Partnership with…
Business, Elected Leaders, Educators, Labor, Non-Profits and many others
to promote San Mateo County as THE PLACE to live, work and prosper...
In the words of 2011 Peninsula Structures Attendees
"Heart of Bay Area Business/Innovation/Environment"

"Centralia - The Hub to get things done,
to connect to the world, the center…"

"A place of opportunity where diverse communities welcome diverse ideas"

"Modern, yet traditional. Brilliant, caring,
mind-blowing creativity, risk takers..."

"Collaborative - a history of cooperation"

"From the coast to the bay, the place to work and play..."

"San Mateo County - it's all about quality-people, business, place, education, environment..."

"Innovation lives here"

"Energy magnet for businesses and families"

"Climate for change"

Events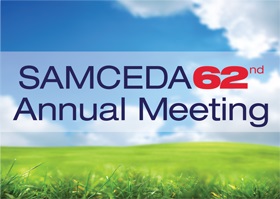 SAMCEDA's 62nd Annual Meeting
Thursday, June 12 Crowne Plaza, Foster City more info
Members and Partners Corner

The San Francisco International Airport (SFO) announced a new all-time record for passenger traffic in Calendar Year 2013, with a total of 45 million passengers. This figure surpasses the previous record of 44.5 million passengers set in 2012 and represents the third consecutive year of record-breaking traffic levels at SFO. SFO remains a top source of economic benefit to region. The Airport generates a total of 33,580 direct jobs and $2.1 billion in personal income, as well as $1.1 billion annually in state and local tax revenue. In May 2013, SFO announced a 10-year Capital Improvement Plan, which is expected to create 36,000 new Bay Area jobs. SFO offers a wide variety of travel options to passengers, with 34 international carriers serving 30 international points, as well as 15 domestic airlines offering nonstop service to 78 cities in the United States. Among airports in the Bay Area, SFO continues to be the airport of choice for both domestic and international flights.
See more at: Fly SFO

Health Law Guide for Business Launches Spanish Website

The health care law may appear large and complex, but it will provide more options for small businesses to better afford health insurance. Learn about your options, make informed decisions, and maximize your benefits.
Visit English Website | Visit Spanish Website
---