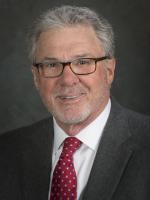 Senior Executive Vice President/COO
Frank Bartaldo has served as Senior Executive Vice President and Chief Banking Officer of United American Bank, a community banking enterprise headquartered in San Mateo, since June 2007. Prior to that Mr. Bartaldo was President and Chief Executive Officer for nine years of Bay Area Bank, a Redwood City based community bank. Mr. Bartaldo's twenty one year career with Bay Area Bank began March of 1986 and saw his organization grow six fold in size. Bay Area Bank served the banking needs of the community and was recognized for its outstanding corporate citizenship. Bay Area Bank was acquired in October 2007 by Wells Fargo Bank. Mr. Bartaldo's banking career began with Wells Fargo Bank in 1972 after graduating from Chico State College and military service.
Mr. Bartaldo's community involvement includes leadership roles as Past Chairman of Redwood City San Mateo County Chamber of Commerce, Past president of Sequoia YMCA and Past President of Sequoia Hospital Board of Directors. Mr. Bartaldo remains a board member of these organizations as well as a current Director of Redwood City Downtown Business Group.