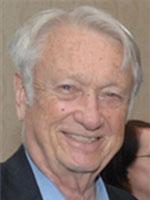 Emeritus Advisor to the Chair
Paul's professional accomplishments are many and they have been well recognized in local, regional, and national organizations. Over the years he has developed and/or consulted on real estate projects in 37 states and six foreign countries. In local real estate circles, he is known for his development activities in South San Francisco, notably the 500-acre Cabot, Cabot & Forbes Office/Industrial Park, where he began the San Mateo County chapter of his career in 1963.
In supporting affordable housing, Paul served on the Peninsula Habitat for Humanity Board of Directors, and its successor, Habitat for Humanity -- Greater San Francisco, for seven years, including a stint as chairman. Habitat has constructed and sold over 150 homes to qualified families, including 42 townhomes in Redwood City and seven in Brisbane, with another 47 units built or under construction in Daly City. He is also a member of the Board of HEART, which has been instrumental in financing more than 800 homes in San Mateo County, all in the "affordable" category.
Paul is a past chairman of SAMCEDA, and remains active as a senior advisor to the organization. He is a past director of the Redwood City-San Mateo County Chamber of Commerce where he continues to serve on the Housing & Transportation Committee. He is a Director of the Bay Planning Coalition. He participates in regional issues as a member of the Silicon Valley Leadership Group Working Council, and Transportation, Housing and Land Use committees, and the Bay Area Council's Transportation Committee. On the national scene, he is a member of the Urban Land Institute and has been the President of the National Association of Industrial and Office Parks. Paul's professional achievements are matched by his contributions in the realm of education. He served for eight years as a Trustee of the Hillsborough School District, including two terms as President of the Board. When he stepped off the Board, he took up the duties of President of the Hillsborough Schools Foundation. Paul has also served as a trustee of his alma mater, the Massachusetts Institute of Technology and he was chosen, twice, to serve as a member of the Visiting Committee for the School of Architecture and Urban Planning.Paul has been named Hillsborough's Citizen of the Year, received SAMCEDA's highest recognition, and honored by the MIT Alumni Association with the Bronze Beaver Award. In 2011, the Peninsula Coalition accorded Paul a Lifetime Achievement Award.
However, if you were to ask him to name his most significant achievement it would be - fathering six kids -- all graduates of Burlingame High School – and two stepsons, who have brought him the joy of 26 grandkids. In June 2014, they welcomed their first great-grandson into the family!