Awards of Excellence: Innovation and Entrepreneurship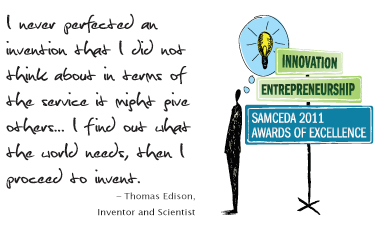 For the past two years the theme of SAMCEDA's annual Awards of Excellence has been Innovation and Entrepreneurship. Innovation is a fundamental pillar of our county's economy, and we are working to ensure that it continues to be an economic priority for both private and public stakeholders whose investment, management and support infrastructure create and sustain our competitive business climate.
Building off our 2009 Start-Up Company Research Report, and our 2010 County Economic Overview and Employment & Business Dynamics Report we continue to promote the location, retention and commercial success of innovative, knowledge-based businesses in San Mateo County. The 2011 SAMCEDA Awards of Excellence recognized San Mateo County companies developing and/or providing innovative products and services. These companies are our future and their success is our success. It is through them that we will be able to sustain and maintain the quality of life we all treasure.